---
first-wave feminism
the suffrage movement
In 1800, women had little control over their lives. The average married female gave birth to seven children [Dicker]. Even wealthier women didn't possess property rights or economic autonomy. First-wave feminism was all about women's right to vote and to have their voice.
The Second Great Awakening, which started in 1790, pointed out emotional experience over dogma, which allowed women more leadership opportunities outside their home [Dicker]. At the same time, abolition and temperance movements activated women tired of being the 'weaker sex' and the lack of equality. Angelina and Sarah Grimke addressed the American Anti-Slavery Society, and that was first step to make women's voice count. Although their speech was widely and fiercely criticised by press, in 1837, Oberlin College became the first higher-learning institution in USA to admit and educate women.
Another event that can be found as the political origin of feminism is The French Revolution (1789). This event raised legal equality, freedoms and political rights as its central objectives but soon came the great contradiction that marked the struggle of early feminism: freedoms, rights and legal equality that had been the great conquests of the liberal revolutions didn't affect women. Rousseau's political theory designed the exclusion of women from the field of property and rights. In the French Revolution the voice of women began to express themselves collectively, so that what pushed women to march, riot and rebel.
First wave of feminism was rich in riots, marches and letters. The exclusion of women in many abolitionist organizations prompted Elizabeth Cady Stanton and Lucretia Mott to rally together women — and some men — to denounce gender inequalities and demand women's right to vote. In 1848, they organized the Seneca Falls Convention, where they outlined women's grievances and their desire for suffrage. Other prominent suffragist-leaders, including Susan B. Anthony, Sojourner Truth and Lucy Stone, joined the suffrage ranks as well.
The term first-wave was coined in March 1968 by Martha Lear writing in The New York Times Magazine, much later than the actual events had happened.
I personally think that first wave of feminism awakened the whole chain reaction, that turned to this point of today, that it's natural for us, girls, women, to be able to vote, speak our minds loudly and proud, be part of governments or elect for President of our countries. First wave was an international movement that brought seeds of today's feminism to life.
---
second-wave feminism
sexuality and reproductive rights movement
The second wave began in the 1960s and continued into the 90s. This wave unfolded in the context of the anti-war and civil rights movements and the growing self-consciousness of a variety of groups of the world. The New Left was on the rise, and the voice of the second wave was increasingly radical. In this phase, sexuality and reproductive rights were dominant issues.
This phase began with protests against the Miss America pageant in Atlantic City in 1968 and 1969. Feminists parodied what they held to be a degrading "cattle parade" that reduced women to objects of beauty dominated by a patriarchy that sought to keep them in the home or in dull, low-paying jobs. The radical New York group crowned a sheep as Miss America and threw "oppressive" feminine artifacts such as bras, high-heels, makeup and false eyelashes into the trashcan.
Second wave of feminism found its voice amid so many other social movements, and that was why it was easily viewed as less pressing than movements like 'Black Power' or 'No War in Vietnam. Feminists started forming women-only organisations (like NOW) and groups raising awareness of women's problems. Publications such as "The BITCH Manifesto" and "Sisterhood is Powerful," were a place where they could express their rebellion and anger.
Whereas the first wave of feminism was generally conducted by middle class, Western, white women, the second phase drew in women of color and developing nations, seeking sisterhood and solidarity, claiming "Women's struggle is class struggle." Feminists demonstrated that race, class, and gender oppression are all related. They initiated a concentrated effort to rid society top-to-bottom of sexism, from children's cartoons to the highest levels of government.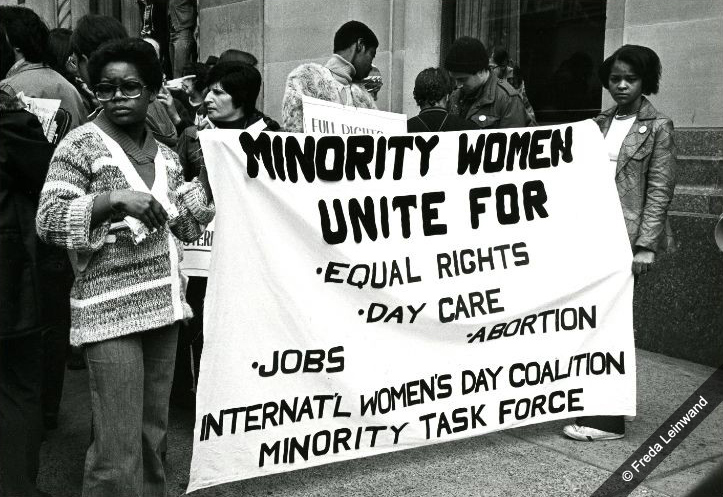 I feel really inspired by the second-wave feminists. They were colourful, diverse, bold, proud and beautiful. They knew that if they don't pull the trigger, nothing's going to change in lives of them but also their daughters and granddaughters. They were fighting like only women can. They were very active in protests, marches and slogan banners making, all to create women's lives the way they are today.
---
third-wave feminism
body and gender movement
The third wave of feminism began in the mid-90's and was informed by post-modern thinking. In this phase many constructs were destabilized, including the notions of "universal womanhood," body, gender, sexuality and heteronormativity. Yong feminists readopted red lipstick, high heels, low cut necklines and crop tops, mystifying mothers of first two waves of feminism. Pinkfloor (a Danish company who once produced a game called "Powerbabes") expressed this new position when they said that it's possible to have a push-up bra and a brain at the same time.
The "grrls" of the third wave defined ultimate feminine beauty for themselves as subjects, not as objects of a sexist patriarchy. 90s feminists would often fight with stereotypes by highlighting them. They used words such as "slut" and "bitch" in order to subvert sexist culture and deprive it of verbal weapons. The web is an important tool of "girlie feminism." E-zines became tools in 'cybergrrls" hands to express their feelings and share their ideology. Zines encouraged especially young women willing to change a picture of a stereotypical woman to do it in a creative and controversial way.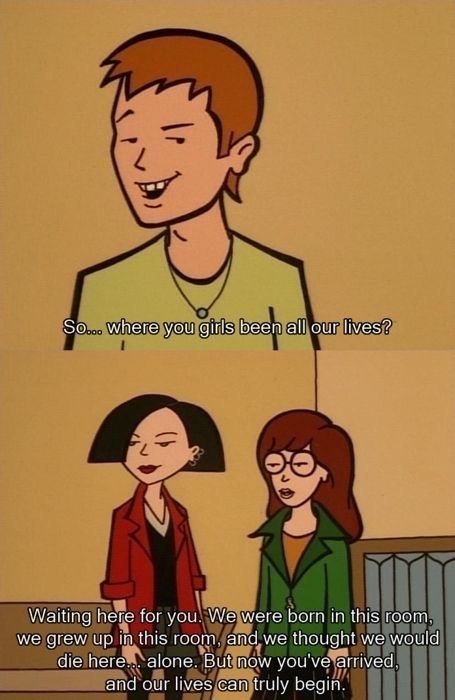 Grrls have fought with sexist picture of women asking for being treated as "sex toys". They believed that they are all beautiful, intelligent and influential. Third wave gives simple answers for artificial questions about identity, sexuality, gender and image. It also completely rejects any form of racism, homophobia, class or sexual orientation differences.
RIOT GRRRL
Music is very important part of third-wave feminism's culture. Riot grrrl is an underground feminist punk movement that originated in the early 1990s in Washington state. It is a subcultural movement that combines feminist consciousness and punk style and politics, it has also been described as a musical genre that came out of indie rock, with the punk scene serving as an inspiration for a musical movement in which women could express themselves in the same way men had been doing for the past several years.
Riot grrrl bands often address issues such as rape, domestic abuse, sexuality, racism, patriarchy, and female empowerment. Primary bands associated with the movement include Bikini Kill, Bratmobile, Heavens to Betsy, Excuse 17, Huggy Bear, Skinned Teen, Emily's Sassy Lime and Sleater-Kinney, as well as queercore groups like Team Dresch and The Third Sex.
In addition to a music scene and genre, riot grrrl is a subculture involving a DIY ethic, zines, art, political action, and activism. The riot grrrl movement quickly spread, mainly thanks to local meetings aiming to end homophobia, racism, sexism and physical and emotional violence against women and girls. Very important part of being a Riot Grrrl is a style of dressing. 90s is a very vibrant time, full of tints and hues. They were inspired by Disney Movies, pop culture icons, but also political and social events of their everyday life. Tinted glasses, faux fur coat, denim jacket, T-shirt with a slogan or favourite band's name, latex skirt and fishnet tights were must-haves of 90s kids (in this case, girls).
Third wave feminism breaks boundaries. At the same time, most third-wavers refuse to identify as "feminists" and reject the word that they find limiting and exclusionary. Grrl-feminism tends to be global, multi-cultural, open for everyone. It's also not that close for men, as grrls often highlight that true men are feminists. These are all reasons why I feel extremely inspired by the third wave of feminism. "Girly feminists" who don't really like to use this word to describe them, as they feel that it's still believed to have its radical first- and second-wave's meaning. I consider myself to belong to this subculture.
sources:
2015 in Review: The Year of Feminism in Pop Culture. (2015). [Blog] Luxorlost. Available at: https://luxorlust.com/2015/11/28/2015-in-review-the-year-of-feminism-in-pop-culture/ [Accessed 7 Oct. 2017].
Burman, C. and Eden, N. (2017). What does the feminist slogan tee actually accomplish?. i-D VICE. [online] Available at: https://i-d.vice.com/en_us/article/nenvng/what-does-the-feminist-slogan-tee-actually-accomplish [Accessed 7 Oct. 2017].
Carpentieri, A. (2016). 12 '90s Powerhouse Female Characters Who Exude Feminism. The Odyssey.
Corgen, C. (2017). How Feminism Works. [online] First-wave Feminism – The Suffrage Movement. Available at: http://people.howstuffworks.com/feminism2.htm [Accessed 7 Oct. 2017].
Pinterest. (n.d.). Pinterest. [online] Available at: https://pl.pinterest.com/pin/322640760795269647/ [Accessed 7 Oct. 2017].
Rampton, M. (2017). Four Waves of Feminism. Pacific Magazine, (Fall 2008).
Wikipedia. (n.d.). Wikipedia. [online] Available at: https://en.wikipedia.org [Accessed 7 Oct. 2017].