Body image
is a person's perception of the aesthetics or sexual attractiveness of their own body. The phrase was first used by the Austrian neurologist and psychoanalyst Paul Schilder in his book 'The Image and Appearance of the Human Body' (1935). There has always been great value placed on beauty of the human body. However, a person's perception of their body may not correspond to society's overall standards.
Complex
a particular anxiety or unconscious fear that a person has, especially as a result of an unpleasant experience that they have had in the past or because they have a low opinion of their own worth. (Cambridge Dictionary)
Body shaming
is the action or practice of humiliating someone by making mocking or critical comments about their body shape or size. (Oxford Living Dictionary)
Complexes are mostly caused by media and capitalistic world of cruel advertisement.
anti-ageing cream for 20-year-old
'the perfect body' lingerie adverts
foundation covering every smallest freckle on face
finally look of a perfect, fit, sexy, intelligent, smiled woman EVERYWHERE around (PS: it's photoshopped but who cares)
examples: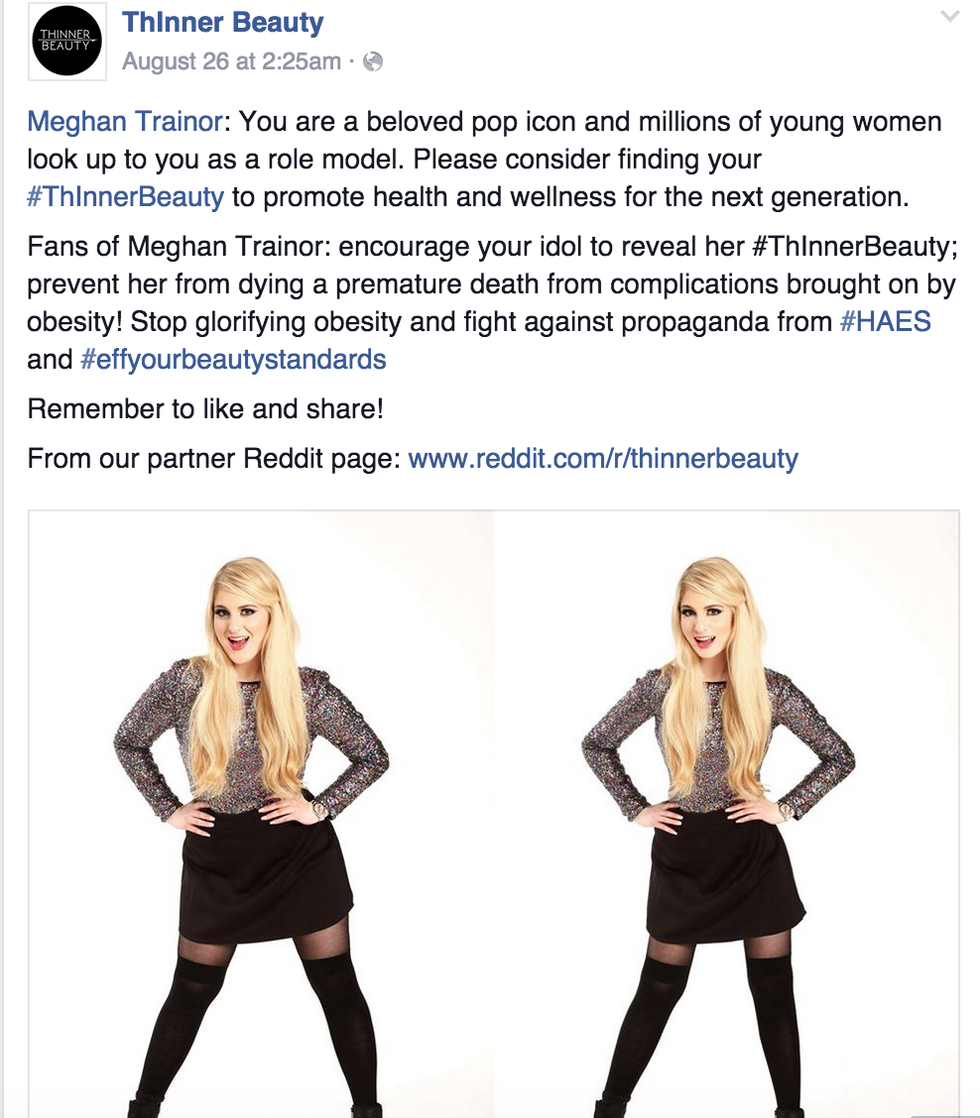 Even though some may say that women don't have a reason to be feminists today, these are only few examples on how they are treated in today's society. Social pressure on being perfect is seen especially online. Instagram accounts dedicated to "couple goals", "life goals", "look goals" and finally – "body goals". Where there is a place for ambitions, life plans and choices, blind followers don't care and don't ask.
Few examples of "goals" Instagram accounts":
source: @Instagram
The truth is, women are surrounded with images showing them how they should look, smell, feel, pose and live. The worst thing about it is that girls, especially young, are charmed a vision of this "perfect" life, where they are appreciated by boys, surrounded with other perfect friends, with their perfect outfits and make-ups. We forget that teenagers are the "easiest-to-persuade-and-manipulate" age group. It all started somewhere, leaving young people with fake picture of a girl in need to impress boys.
This exactly is the picture "babes" want to fight with. They change body-shaming into body-positive. Fat, skinny, curvy, muscular, stretched, flat, too big, too small, plus size into BEAUTIFUL. When it comes to make up, it's important to be YOURSELF. Whether it means full make up everyday, or no make up at all. We do what we feel. We are free to experiment and try everything to see how it feels. We explore, and we stay with what we believe in. We are not jealous, we are supportive. We remember – complexes are in all sizes (yes, Victoria's Secret's models have them, too). We don't hate, we love.
In next post I will try to show amazing examples on campaigns and social movements that battle the stereotype of "perfect body".
sources:
Colman, K. (2015). Everything Wrong With #ThInnerbeauty. The Odyssey. [online] Available at: https://www.theodysseyonline.com/everything-wrong-with-thinnerbeauty [Accessed 9 Oct. 2017].
Dictionary.cambridge.org. (n.d.). The Cambridge English Dictionary. [online] Available at: http://dictionary.cambridge.org/dictionary/english [Accessed 9 Oct. 2017].
Facebook.com. (n.d.). Thinner beauty – Facebook Account. [online] Available at: https://www.facebook.com/Thinnerbeauty-130268193984835/ [Accessed 9 Oct. 2017].
Instagram. (n.d.). Instagram. [online] Available at: http://www.instagram.com [Accessed 9 Oct. 2017].
Oxford Dictionaries | English. (n.d.). English by Oxford Dictionaries. [online] Available at: https://en.oxforddictionaries.com/definition/body_shaming [Accessed 9 Oct. 2017].
Pinterest. (n.d.). Pinterest. [online] Available at: https://pl.pinterest.com/pin/322640760795269647/ [Accessed 7 Oct. 2017].
Price, J. and Shildrick, M. (1999). Feminist Theory and The Body. Edinburgh: Edinburgh University Press.
Vong, K. (2011). Digitally Made Models : computer generated models. [online] TrendHunter.com. Available at: https://www.trendhunter.com/trends/computer-generated-models [Accessed 9 Oct. 2017].
Wikipedia. (n.d.). Wikipedia. [online] Available at: https://en.wikipedia.org [Accessed 7 Oct. 2017].