'90s
are definitely an endless source of inspiration, especially for fashion. Designers, musicians, stylists and photographers, movie directors, Instagram accounts, music videos, IT girls – they are all inspired by 90s, as this decade is fresh and cheerful, but also brings back the spirit of original "girl power". This decade is a perfect mirror for #goodvibesonly hashtag and movement, where young people want to have fun and enjoy their company. Especially girls of the 90s were quite revolutionary. Bold leopard print, high-heeled platform boots, fishnet tights, baggy pants, extra skinny pants, crop tops, dare make ups. These are only examples of remarkable trends of the 90s that are inspiring designers of today.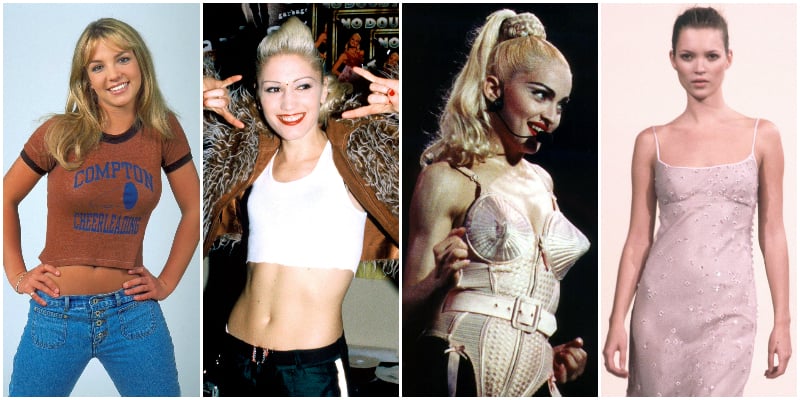 Fashion in the 1990s brought forth a youth movement and offered carefree styles. Grunge and minimalism were the main trends of the decade with hip-hop and "sexy school girl" styles. Designers such as Marc Jacobs and Alexander McQueen pioneered grunge and took inspiration from the gritty streets. Supermodels were traded in for a new breed of models with Kate Moss, and her "heroin chic" look – "too cool to care", and fashion featured this attitude. Music and fashion also went together as fans copied the unique styles of their musical idols (Spice Girls).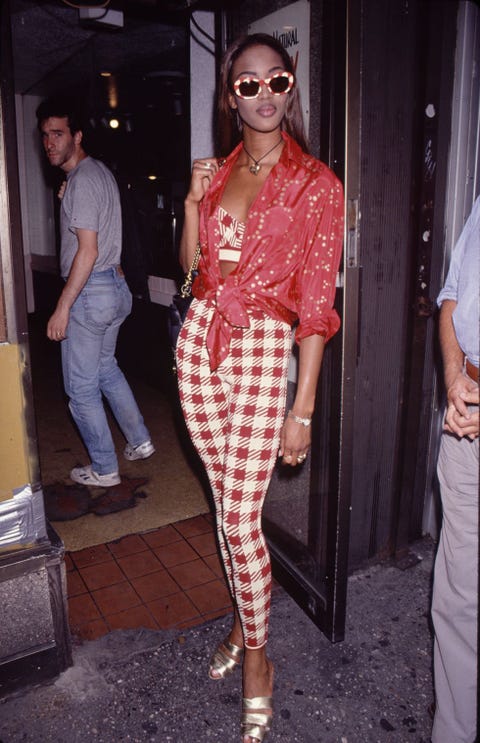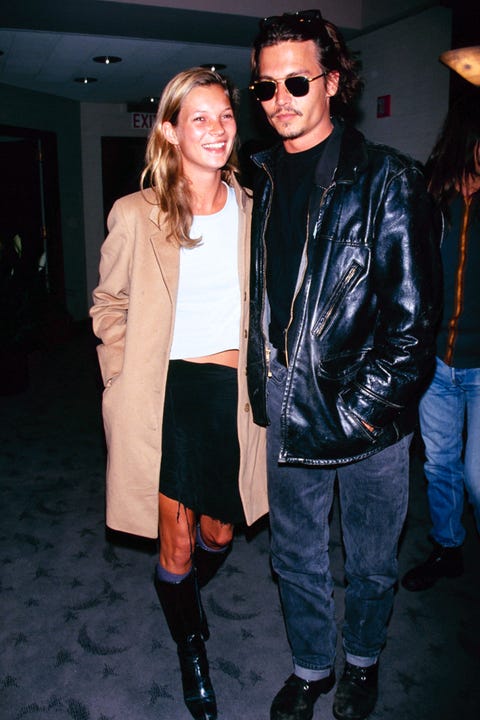 Creators of lifestyle and fashion are transforming iconic 90s looks and trends to create new and fresh fashion. Looking back at 90s, it was one of the most recognisable decades in fashion and culture. Based mostly on young people, trends were expressing their minds, thoughts and ideas. As mentioned before, people wanted to have fun, be chilled, but also: wanted to have equal rights. 90s fashion was very influenced by feminism wave that flooded the society. Girl power became an important part of typical 90s' girl's identity. She could be anything. She could wear what she only wanted. She was experimenting, mixing styles and patterns, looking for new inspirations. So are girls now.
designers
Balenciaga 2017 patchwork-colour sneakers vs Nike Air 1997
Miu Miu 2017 colour and patterns craze vs Versace 1991
Fenty x Puma SS18 version of sporty windbreaker vs Tommy Hilfiger 1997′ sporty wind jacket
Saint Laurent and Gucci 2017 sparkling looks vs Giorgio Armani 1991
Off-White 2017 developed checked and elegant total look vs Issac Mizrahi 1994 iconic "school uniform" look
music videos
Nicki Minaj feat. Beyonce – Feeling Myself
Styling in this music video is colourful, cheerful and sometimes crazy. The idea of girls having fun and "feeling themselves" brings memories of Spice Girls' "Wannabe" music .
What is really inspired by 90s, is a sporty style, so over-sized jerseys (shirt of your favourite sport team), loose bomber jackets, high socks with stripes. At the same time, what brings 90s vibes to life are definitely fake colourful furs, huge gold whoops, sleek curls and high pony tail.
Mura Masa feat. Charlie XCX – 1 Night
This video is one of the most aesthetically pleasing moving image of 2017. Video is showing love of "everyday couples", and their struggles. It is all kept in the same light atmosphere, bringing the idea of comfort and chill to mind. Straight pictures, 90s colours (warm yellows, pastels, bright red) and styling of people (denim jeans with crop top, bra with sporty shorts with stripes, sweatpants and windbreaker), but also the space (clean lines, simple furniture, plants, neutral colours of walls and bedding, school gym).
Jorja Smith X Preditah – On My Mind
This music video shows the quintessence of 90s' vibes' blocks and kids in the neighbourhood. It is all about 90s' hip hop style, loose windbreakers, "fast glasses" (thin), box braids and BIG whoops, baseball caps, high pony tails with scrunchies. Story of young group of friends having fun in one's flat brings us back to lifestyle of 90s' kids.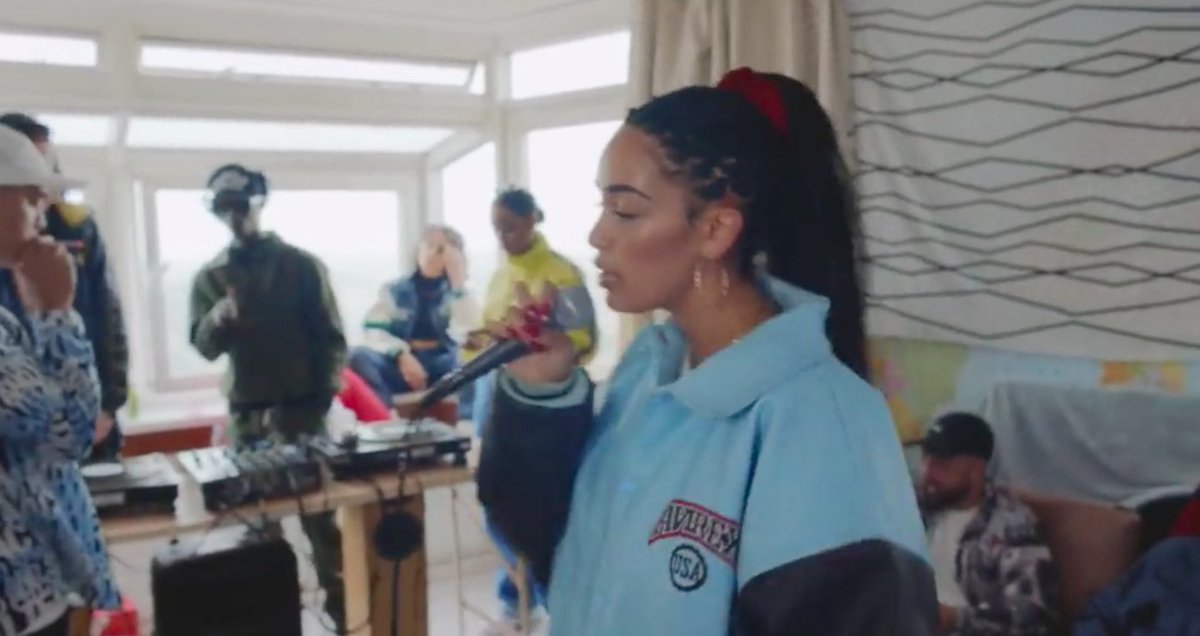 IT girls
Bella Hadid – a model, influencer, IT girl.
Last outfit is as 90s' inspired as it could possibly be. Looking at the picture, it easily brings "Clueless" vibes. Starting with a combination of a mini skirt and high heels, together with a furry-sleeved cardigan and a white top with a sparkling cross. The thing that definitely brings the 90s on mind are white hair clips, contrasting with Bella's dark hair.
Zoe Kravitz – an actress, musician, model, influencer, IT girl
Instagram accounts
@90.babes
Account completely devoted to the fashion and culture of the 1990s, and decade's influence on today. Over 260k followers all over the world. Focused on 90s icons (Kate Moss, Naomi Campbell), it's showing the ethos of women empowerment and natural beauty. It's mixing comfy style with glamour and freedom of sexuality. The whole feed is a mixture of outfits, locations, food, habits, cars, holidays and attitudes of 90s' babes. Hashtags they use are: #90sbabes #90skids #vintage #90sfashion #90sstyle
@vintagefashion
Again, account with great inspirations straight from the 90s. Icons, lifestyles, outfits and details. With over 400k followers, it's really powerful and influential.
@godzdntdie
Eternal life. Luxury catalogue. This is the bio of this Instagram account. It's focusing a sentence of pictures in the same style, trend or colour, creating amazing and inspiring feed. Full of 90s' vibrations, you can easily get back to this decade in your mind. Desire – that's what you feel when you scroll down this feed (definitely my ultimate fav among Instagram accounts!).
trend forecasts
WGSN, an international trend-forecasting company with it's head office in New York, is known for extremely accurate forecasts. Newest reports are showing that there is a huge interest in 90s, when it comes to slogans, accessories, typography and colours, especially for S/S18. Below few examples of their reports showing 90s' vibes.
sources:
Beyonce feat. Nicki Minaj – Feeling Myself. (2015). Hit-Boy.
Brewer, T. (2017). 90s Fashion. TheTrendSpotter. [online] Available at: https://www.thetrendspotter.net/how-to-rock-the-90s-fashion-trend-in-2016/ [Accessed 17 Oct. 2017].
Gaensheimer, S. and von Olfers, S. (2010). Not in Fashion: Photography and Fashion in the 90s. Kerber Verlag.
Instagram. (n.d.). Instagram. [online] Available at: http://instagram.com [Accessed 17 Oct. 2017].
Jorja Smith – On My Mind. (2017). Directed by H. Dockrill. FAMM / Pulse Films.
Mura Masa & Charlie XCX – 1 Night. (2017). Directed by Y. Lappin. Anchor Point Records.
Pinterest. (n.d.). Pinterest. [online] Available at: https://www.pinterest.com [Accessed 15 Oct. 2017].
Vogue.com. (n.d.). Vogue. [online] Available at: http://vogue.com [Accessed 17 Oct. 2017].
WGSN Insider. (2017). The most aesthetically pleasing 90s movies. [online] Available at: https://www.wgsn.com/blogs/the-most-aesthetically-pleasing-90s-movies/ [Accessed 16 Oct. 2017].
WGSN – Creating Tomorrow. (n.d.). WGSN | Creating Tomorrow. [online] Available at: https://www.wgsn.com/fashion/ [Accessed 18 Oct. 2017].
Whittaker, A. (2017). All the '90s Trends Bella Hadid Has. [online] InStyle. Available at: http://www.instyle.com/fashion/street-style/bella-hadid-90s-trends#2936508 [Accessed 17 Oct. 2017].
Wikipedia.org. (n.d.). Wikipedia. [online] Available at: https://www.wikipedia.org [Accessed 15 Oct. 2017].
Williams, L. (2017). '90s Trends That Made a Comeback. InStyle. [online] Available at: http://www.instyle.com/celebrity/90s-trends-made-comeback [Accessed 14 Oct. 2017].