There are countless of types and topics of today's zines. There are some more popular and totally alternative ones. Ones are photocopied in thousands, other ones are extremely exclusive. Some of them are illustration-based, other ones are focused of poetry, even if they share the same topic/theme/problem.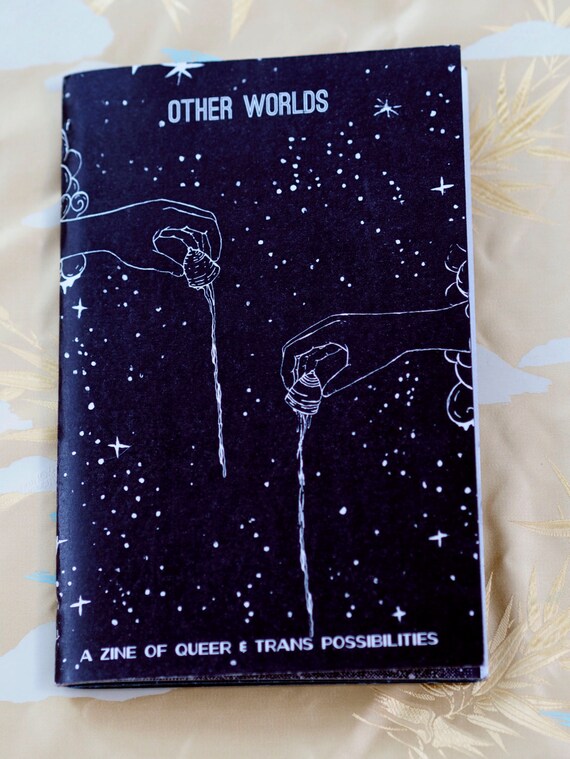 Everyone can make their own zine, their own piece of art – I know from my experience that it is extremely nice to have something done by you in your hands. A 16-year-old goth-girl, or a 25-year-old graphic designer. They all can be creators of their own zine.
Girls' and feminist's zines don't have a template, nor a pattern. They are created both by young teenagers, with passion for empowering other girls and sharing their experience, or a creative professional – trying to create completely independent space for their creativity and art. Zine is art. Zine is illustration, drawing, scanning, DIY, writing, poetry, quotes, comics, interactive challenges to THINK. 'Ziners' try to combine problem solving with provoking a deeper thought.
When it comes to the outlook of feminists' zines, a big amount of them are pink and pastel. Pink is a kind of statement, expressing the fact that if a girl is girly – she can still be a feminist. It's not about hating on boys – it's about being who you truly are.
Other ones are all about a fight with slut-shaming. Girls intentionally call themselves "sluts", "bitches" and "hoes". One of the reasons is that if they say these words out loud, they lose vulgar and negative meaning, hurting especially young girls. Look of the zines is more crafty, crazy, sometimes "vulgar". There is also more nudity, provoking images and swears. It often shows illustration connected with "freeing the nipple", open talk about sex and period.
Bitch Media
Bitch Media is a nonprofit, independent, feminist media organization dedicated to providing and encouraging an engaged, thoughtful feminist response to mainstream media and popular culture. They are best known for publishing the magazine Bitch: Feminist Response to Pop Culture, which started as a zine back in 1996. Asked about their name, the writer Rebecca West answered, "People call me a feminist whenever I express sentiments that differentiate me from a doormat." When "bitch" is being used as an insult, it's an epithet hurled at women who speak their minds, who have opinions and don't shy away from expressing them they're bothered or offended. If being an outspoken woman means being a bitch, Bitch Media takes that as a compliment. They believe that "if we choose to reappropriate the word, it loses its power to hurt us."
These are two most popular types of feminist zines, as it is often easier to use extremes to show that both being different and normal are ok.
However, zines that I find more inspiring are these with an extraordinary approach. The fact that BABES are inspired by 90s, made me not able to choose any other style to create my zine in. I absolutely love zines that are kept in the same style. If it's party-themed, decade-inspired, subculture-oriented, or just colour and form are uninterrupted.
mad sounds
I find this LA's position extremely inspiring and aesthetically pleasing. With pictures in the same style and tune, it creates a cosy space where you want to belong. Focused on girls, defining being a woman, sharing beautiful stories and faces. What inspire me are layout, styling and retro vibe.
kristina podobed
What I find really inspiring about this zine, is most of all using of colour. Blocks, frames, unconventional combinations and a note of mystery. It's very natural, almost untouched, just-the-way-it-is. Focusing on photographs of Kristina Podobed, it is very graphic, fresh, but with retro tone. She proves that beauty comes with personality, and also with tan-lines and imperfections, with mud and bruises.
cherry
A zine created in collaboration with local artists but also tens of young creative people, having something to say. I really like the covers of Cherry, its simplicity and contrast between the title and a photograph. At first sight, the shot seems just to be nice and pretty, but when we take a deeper look, we realise that the situation is actually funny and weird (a teenager with a fairy wings in front of a diary fridge?). Cherry speaks about controversial topics (like masturbation or sex protection) in funny and light way. It feels like their audience is mainly built of young girls, identifying who they really are.
There are hundreds of girls' zines. So what should I do to make my one stand out? What I found missing between the titles was modern approach, something fresh, different, not necessarily connected with "pink", but also with "a slut". I decided to focus on 90s' babes, and make the zine exactly in this style. I feel that girls' zines still miss the essence of being "a normal girl next door", that I believe BABES are. Every one is special, different, they stand out but stand together. Girls, who are feminists but don't need to show their bloody tampon. It will be something different. Main colours for my zine will be red and yellow, as I believe these colours are easily bringing 90s to our minds, but also this combination is strong and bold. Inspirations straight from the 90s in the next post.
sources:
Adams, V. (n.d.). Other Worlds Zine. [online] Available at: http://otherworldszine.tumblr.com/archive [Accessed 19 Oct. 2017].
Barrett, L. (2017). Zine Workshop.
Dunne, E. (n.d.). [Blog] Cherry Mag Tumblr. Available at: http://cherrymag.tumblr.com [Accessed 19 Oct. 2017].
Ellenthal, L. (n.d.). 8 Totally Rad Feminist Zines You Need to Check Out. [online] Bust. Available at: http://bust.com/arts/12537-8-totally-rad-feminist-zines-you-need-to-check-out.html [Accessed 17 Oct. 2017].
Falk, J. (2015). Bitch Media. [online] Bitch Media. Available at: https://www.bitchmedia.org [Accessed 17 Oct. 2017].
Issuu. (n.d.). Beth Dunne. [online] Available at: https://issuu.com/bethdunne [Accessed 19 Oct. 2017].
Mad Sounds Magazine. (n.d.). Mad Sounds Magazine. [online] Available at: https://www.madsoundsmagazine.com [Accessed 18 Oct. 2017].
Piepmeier, A. (2009). Girl zines – Making Media, Doing Feminism. 2nd ed. New York: New York University Press.
Pinterest. (n.d.). Pinterest. [online] Available at: https://pl.pinterest.com [Accessed 15 Oct. 2017].
Podobed, K. (2016). Kristina Podobed Zine, [online] (1). Available at: http://pogobooks.de/content/podobed.html [Accessed 13 Oct. 2017].
Printed Matter. (2014). Non Stop Poetry – Mark Gonzales. [online] Available at: https://www.printedmatter.org/events/242 [Accessed 14 Oct. 2017].
Wikipedia.org. (n.d.). Wikipedia. [online] Available at: https://www.wikipedia.org [Accessed 15 Oct. 2017].